We support the Sustainable
Development Goals (SDGs).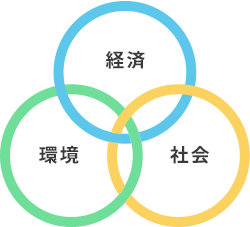 ENVIRONMENT
● We are working to reduce the amount of garbage discharged from our offices.
● We are in the process of purchasing reforms to reduce commodities in stock.
● We consider environment and treat a product.

SOCIETY
● We strive to put *CS first and product *QC first.
● We maintain business transparency and strive for socially responsible transactions.
● We are engaged in social contribution activities.
● We respect the human rights and other interests of people.

*CS=Customer Satisfaction *QC=Quality Control
ECONOMY
● We offer the useful best product, service to all customers.
● We are challenging the growth of each employee and the realization of a company where people can live.
● We will create it about a job satisfaction and the health of the employees.